Adventure trip to Ghana
latest updates:
2005/04/11 - original sounds from Lobi Tribe as my nokia recorded one evening: first sample (WAV, 70KB) and second sample (WAV, 34KB)
2004/07/06 - National Geographic published my article about African spiritual world
2004/06/21 - photos from Cape Coast released
2004/05/26 - National Geographic published my article about marriage poles of Lobi tribe
2004/05/11 - photos from Larabanga, Lobi and Talensi people, Mole National Park and Breno beach released
2004/02/10 - first photos added to photogallery..
2003/12/18 - costs in ghana added..
2003/12/04 - outro - small summary added..
2003/12/03 - hopefully start scanning photos soon..
2003/11/27 - got developed photos. nothing special :-)
2003/11/23 - back from africa
2003/10/02 - map with planned destinations added
2003/09/30 - more detailed plan
2003/08/25 - plan more detailed at its first part
updated
Prerelease notes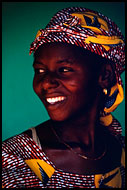 again on my way.. last time I had chance to visit indigenous tribe of Siberut Island and was amazed about the tribal people, their culture and their life. when trying to plan trip for this year, I decided, once again, not to choose tourist destination, but rather place where I could learn more about indigenous people and their beliefs.
after going through several books and interesting web sites I bumped into interesting information. somewhere in the sahel, on the border between burkina faso and ghana, there is one tribe living, that was never colonized even when rest of the west africa was bowing to "white man".
the main factor they did not get colonized was their social structure - instead of centralized system of administration with some chief or king, the members of the community are united by common adherence to the cult of a nature spirit called thil and the rules that determine correct social behavior in the community are the rules that the spirit dictates through the diviner.
studying the culture itself was very interesting and now I hope to see some of it "in real". additionally I'd like to visit somba tribe in nothern togo, for whom animistic beliefs and voodoo are necessary part of their everyday existence..
Photos
More photos from Ghana
Articles
National Geographic has published some of my articles about Ghana, check out this list.
Plan
Several adjustments had to be made and this is final version.
arrival in Accra
north to Tamale
Tamale -> Mole National Park
Wa, Wechiau -> Lobi tribe in Ghana
Navrongo and round -> Gurunsi (Kaséna) tribe
Bolgantanga and around -> Talensi festival, sacred mountains
south through Kumasi to the coast - Breno beach, Cape coast
Accra, home..
Outro
if you are ready for three things - 1, incredible heat during noon when sitting in shade your only wish is the air to move just a little 2, friendly people and great cultural heritage (esp. north) 3, fact that you most likely get malaria - then your trip is gonna become on of the best ones ever, as mine did..
africa was, after all, amazing. my plan to visit in 18 days also burkina faso turned out to be unfeasible - there was so much to see in northern ghana, that I decided rather to explore less places and spend there more time than to rush from one place to another.
in general, northern ghana is less touristy, means also less hassle and less spoiled culture. I liked especially lobi tribes round city wa and kassena people round navrongo with their breathtaking architecture. in southern ghana I've spent last few days on Breno beach, nice place to take beer and relax. cape coast is the right choice for you if you like history, the slaves fort was perfect spot to learn about slave trade.
i got also feeling that north-west is more conservative (most likely 'coz islam is prevailing religion) while middle north, especially bolga is more relaxed in a way of how people spend their free time - outside in bars, drinking, talking enjoying. nothing like this to be seen for example in wa.
orientation prices (in cedis) for those interested in visiting ghana. the course USD -> cedi was around 8.700 in november 2003.
traveling(price of ticket + price of backpack)
accra -> tamale
68.000 + 4.000 (BUS)
tamale -> larabanga
12.000 + 5.000 (BUS)
larabanga -> wa
20.000 + 5.000 (BUS)
wa -> navrongo
30.000 + 5.000 (BUS)
navrongo -> bolga
5.000 (taxi)
bolga -> tamale
25.000 (tro-tro)
tamale -> kumasi
60.000 + 4.000 (luxus BUS)
kumasi -> takoradi
35.000 + 4.000 (BUS)
breno -> cape coast
2.500 (tro-tro)
cape coast -> accra
18.000 + 6.000 (BUS)
food, drinks
usually you can buy food on streets, ranging from 1.000 for portion of yams up to 20.000 for a big fried chicken. restaurants not that common in northern east part (think there is none in wa). pito - local beer costs around 1.000 per pot.
housing

mostly i choose backpackers places and i was always very satisfied with the service. the prices were from 20.000 (larabanga) up to 45.000 (bigger cities).
note on mole national park: if you plan to visit mole for more days, its better to sleep inside the park in dorms even thought larabanga seems cheaper. the reason is that you've to pay entrance fee (20.000 cedis for students) EVERY DAY you go from larabanga to mole + bike (10.000/day) ending up in higher sum than you would have to pay in overprized dorms in mole.
Links
links to interesting articles and sites i found while gathering information about my trip..

GALLERY STATISTICS
build: r0.4.3.1/አዲስ አበባ
countries: 17
categories: 134
photos: 2155
hits: 9184419
comments: 249