The Gambia & Senegal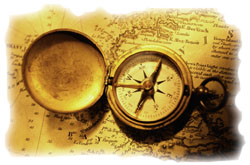 latest updates:
2009/03/09 - photos from traditional wrestling published
2009/02/25 - photos from salt harvesting published
2009/02/15 - photos from Casamance published
2009/02/14 - photos from Senegambia published
2009/02/11 - photos of Bedick tribe published
2009/02/10 - back from the trip, short summary will be published soon.. when arriving on Oslo airport, it was -17°C, exactly 50 degrees difference between Banjul where I flew from.
2009/01/26 - am off to The Gambia and Senegal..
2009/01/23 - money exchanged
2009/01/22 - plan getting more detailed, am in contact with potential guides
2009/01/14 - got visa to Senegal, had a great chat with consul and got even quite detailed map (which I was searching for on the iNET for so long time) as a gift..
2009/01/12 - starting on learning basic french/wolof phrases so i won't be totally lost :)
2009/01/08 - i renewed vaccine for typhoid and meningitid A+C
2009/01/07 - decision was made, tickets were bought
2009/01/06 - found a cheap ticket to Banjul, The Gambia
Prerelease notes
Africa has charmed me many times before so when I saw an offer on tickets to Banjul, I did not hesitate and took the chance. It will not be for sure a tour without troubles, in Senegal the official language is French which I do not know at all and its difficult to find someone who speaks English but that is just another challenge :-)
Photos
More photos from Senegal and Gambia
Articles
Not any articles published yet. Check out list of articles which I published (mostly in czech language) recently.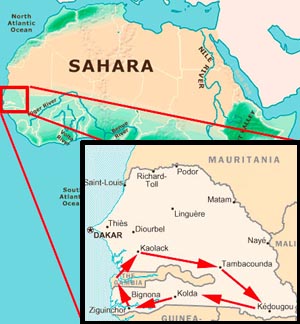 Plan
This is my first approximate itinerary:
Oslo -> Banjul
Banjul -> Karang -> Kaolack for traditional wrestling - laamb and salt harvesting
Kaolack -> Tambacounda -> Kedougou for trekking in villages of Bedick
Kedougou -> Casamance region in south west Senegal for local wrestling and landscape (Enampor, Edioungou, Kafountine)
Casamance -> Serekunda for beaches if still any time left
Banjul -> Oslo
Tips & tricks as per February 2009
1 € is approximately 650CFA
sept taxis are little bit more expensive but much faster than miniuses
expect to pay for your backpack on both minibuses and sept taxis, for middle sized backpack you should pay around 1.000CFA
the road from Kaolack to Tambacounda is in very bad condition, count on spending 6 hours on the way
Casamance is relatively safe, the situation is the worst in the stretch between Ziguinchor and Diouloulou where you meet two to three pro-governmental soldiers every 1km. They are supposed to watch the safety but I've also heard from the locals that this is only a smart thing done by current president making the situation look like worse than it actually is.
Prices of transport (all for 7 passangers "bush taxi" if not statet otherwise):
Kaolack -> Tambacounda - 6.000CFA + 1.000CFA for backpack, 6 hours
Tambacounda -> Kedougou - 5.000CFA + 1.000CFA for backpack, 3.5 hours
Tambacounda -> Kolda - 5.000CFA + 1.000CFA for backpack, 3.5 hours
Kolda -> Ziguinchor - 4.000CFA + 1.000CFA for backpack, 3 hours
Ziguinchor -> Enampor - 600CFA + 200CFA for backpack, 30mins
Enampor -> Edioungou - 10.000CFA, pirogue, 3 hours
Oussouye -> Ziguinchor - 700CFA + 500CFA for backpack, minibus, 45min
Ziguinchor -> Kafountine - 2.500CFA + 500CFA for backpack, 1.5 hours
Kafountine -> Diouloulou - 600CFA + 300CFA for backpack, minibus, 45mins
Diouloulou -> Seleti - 400CFA
Seleti -> Birkama - 60DLS
Birkama -> Westfield, Serekunda - 13DLS + 2DLS for backpack
Westfield, Serekunda -> Fajara or Bakau - 5DLS
Prices of housing per night:
Kaolack -> Etoile du Sine - 15.000CFA, double, aircon, breakfast
Kedougou -> Chez Diao - 6.700CFA, bungalow, fan
Kolda -> Hotel Hobbe - 20.000CFA, bungalow, aircon, swimming pool, internet, breakfast
Oussouye -> campement Auberge du Routard - 3.000CFA + 2.500CFA for main dish
Kafountine -> campement on the beach near campement a la nature, owned by Ali and Dominique, 4.500CFA + 1.500CFA for main dish, probably the best place I've slept, bungalow, no electricity, 50m from the beach, great simple food
Fajara/Serekunda -> Hotel Si Soho - 500DLS, single, fan, breakfast

GALLERY STATISTICS
build: r0.4.3.1/አዲስ አበባ
countries: 17
categories: 134
photos: 2155
hits: 9292796
comments: 249